Hybrid Drumming
| More in Drums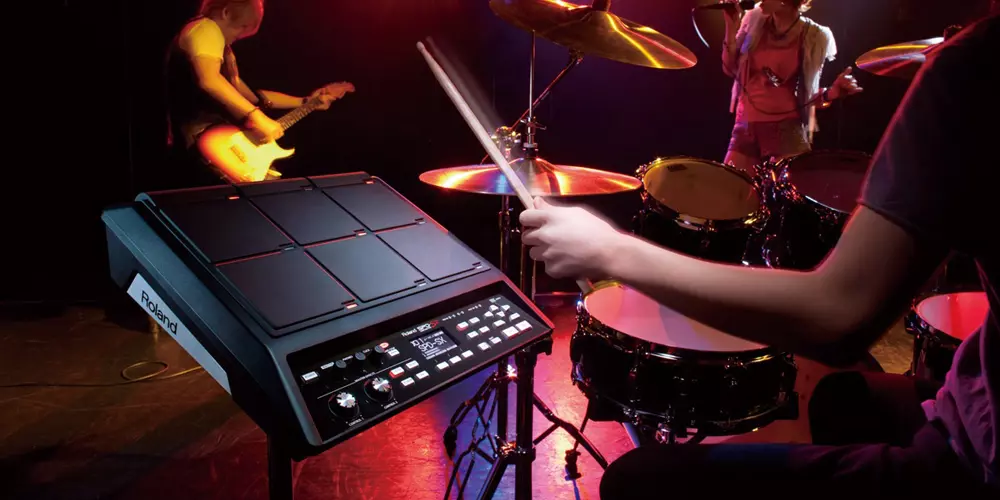 Simmons 1981 prototype "batwing kit" – electronic drums helped put Roger Taylor (Duran Duran), Rick Allen (Def Leppard), and Bill Bruford on the charts.

The term hybrid is hot right now. Everything is a hybrid of some kind. As drummers, we have always looked for ways to bridge gaps of sound – from adding of cymbals to the drum kit., to adding percussion and adding electronic elements.
Electronic drums are nothing new. We have been using them for decades now, but how they have morphed into the modern day drum kit is quite unique. So, let's take a trip back in time to the wonderful experimental time of the 1980s. That is when the real genesis of hybrid drumming began.
Drummers like Roger Taylor of Duran Duran, Rick Allen of Def Leppard, Bill Bruford of Yes - they had taken the sound to the masses. The Simmons electric pad was the choice of weapon that put all of these guys on the charts. We all know "that sound," heard on "Hungry Like The Wolf" and "Pour Some Sugar On Me". It is iconic. That is hybrid drumming to the general public.
What kind of set up was used? Well, Rick Allen was all electric drum pads, mixed with real cymbals. Roger Taylor used what is most popular today: a mixture of real drums and cymbals, with electronic drum pads. As a drummer who was heavily influenced by these legends, I had a great interest in hybrid drumming. My journey started in 2005 with my first electronic drum kit. What an incredible feeling it was to finally hear all those cool drum sounds: Simmons sounds, 808 sounds, all types of percussion right at my finger tips! That started a fire which has burned ever since.
There is not enough space to tell how many frustrating, then exhilarating moments I have had bridging the acoustic/electric gap. What I will tell you is, you have to just try new things. It will keep you fresh as a drummer. Hybrid drumming adds so much versatility to your set up. Bands love hearing cool authentic parts from songs being played. It brings a song to life
Start small. Right now is the best the gear has ever been - and the least expensive! Add a sample pad to your kit. Trigger your bass drum. These little steps will take your playing and your band to a whole new level.

Gear to Get You Started on Your Hybrid Drumming Journey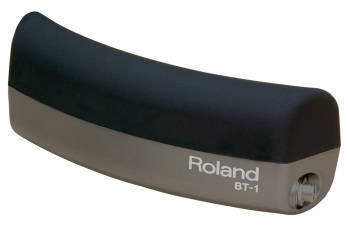 Roland BT-1 Bar Trigger Pad
With a curved shape that mounts on the side of a V-Pad or acoustic drum, it provides convenient playing access without disturbing your existing kit layout.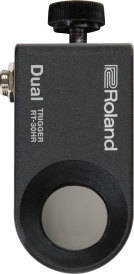 Roland RT-30HR Dual Drum Trigger
Ideal for use on snare drums, this trigger supports independent head and rim triggering for playing two different sounds from the same drum.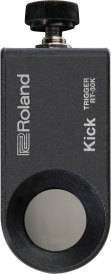 Roland RT-30K Kick Drum Trigger
Developed specifically for use on bass drum, the RT-30K provides fast and accurate triggering in a robust unit that's simple to install.




Roland TM-2 Trigger Module
Ready-to-play pro sounds are optimized for augmenting live acoustic drums and extending the percussion capabilities of any kit.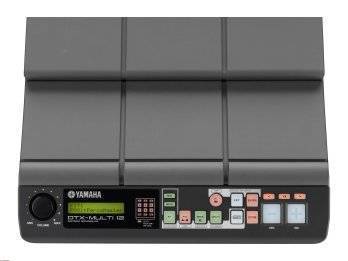 Yamaha DTXM12 Multipad
Features 12 trigger pads in a compact split-level configuration and includes 1,277 drum, percussion and effects sounds.

Chris Wood has been playing drums for over 20 years. He currently plays in a cover band, Copy Cat. He also does drum tech work for recording sessions and live concerts. Chris works at the Long&McQuade location in Charlottetown.