Sorry, this item is not available for purchase
Gear Hunter
EarthQuaker Devices Avalanche Run
SKU: 516129
Model: EQDARV2
Serial: 20093
Quantity Available: 1
Condition: Used
---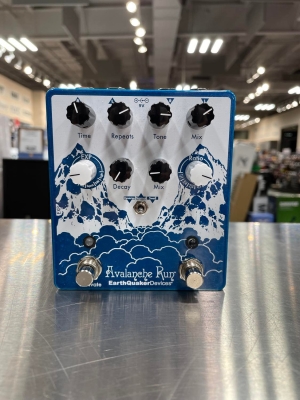 Buy From Store
Pick up at the store only. Contact Gravenhurst Ontario
This product may not come in original packaging.
---
Description
V2 Updates - January 2018

- New flexi switch silent relay based switching allows for traditional latching or momentary operation
- Updated reverb algorithm for improved stereo imaging
- New custom-built enclosure

Avalanche Run Stereo Reverb & Delay

The Avalanche Run was developed with one goal in mind: to take the floating ambient tones of the Dispatch Master to the next level while still keeping it user friendly and refined. Taking you into the aural exploratorium without having to break open the user manual every time you want to open up your inner eye and get free is no easy task. EarthQuaker Devices is using a high powered proprietary DSP platform to recreate all the characteristics of all their old favourite delay and reverb machines while still retaining a simple, yet flexible workspace. It has been a long time coming but well worth the wait!

The Avalanche Run is a dreamy sonic discovery device with up to 2 seconds of delay time and a lush reverb. It features complete control over delay time, repeats, mix and voice (with the tone control), as well as control over the reverb length and mix. It can run in one of 3 different modes: Normal, Reverse and Swell. In "Normal" mode, the Avalanche Run functions as a straightforward delay and reverb. In "Reverse" mode, the delay line is in reverse and the reverb remains in normal mode. In "Swell" mode, the Avalanche Run reacts to your picking dynamics and adds a volume swell to the entire signal path much like manually raising and lowering the volume of your guitar.

The Avalanche Run features an expression jack that can be assigned to one of six different controls using the "EXP" selector switch. It also features Tap Tempo with six different ratios accessed via the "Ratio" selector switch. The Avalanche Run can also be run in "True Bypass" mode or "Buffered Bypass" mode for trails and features 5 different tail lengths including "Infinite" for lo-fi and continuously degrading pseudo-looping.

The Tap switch also has a few other cool secondary functions. While in Normal and Swell mode, you can send the Avalanche Run into self-oscillation by holding down the "Tap" footswitch. In Reverse, mode holding down the Tap switch will flip the delay back into Normal mode and return to Reverse mode once released!

Each and every Avalanche Run is completely assembled, wired and tested by total human beans in the tiny tundra town of Akron, Ohio.

Hear the Avalanche Run on Soundcloud.

Features:

* Stereo Reverb and Delay with Tap Tempo
* Proprietary DSP algorithm for lush reverb and delay
* Stereo inputs and outputs
* Up to 2 seconds of delay time
* True Bypass and Trails switching with option for sound-on-sound
* Normal / Reverse / Swell delay modes
* Ratio selector switch subdivides Tap Tempo for quarter notes, dotted eighths, quarter note triplets, eighth notes, eighth note triplets, or sixteen notes.
* EXP selector switch allows for expression control of reverb decay time, reverb mix, delay time, delay repeats, delay mix, or Normal/Reverse mode toggle.
* In Normal and Swell modes, holding down the Tap switch stacks delay repeats for self-oscillation
* In Reverse mode, holding down the Tap switch momentarily switches the delay to Normal mode. Release the Tap switch to return to Normal mode.
* Updated reverb algorithm for improved stereo imaging*
* New custom-built enclosure*
* 24-bit 96kHz A/D and D/A converters
* 115dB signal-to-noise ratio
* True bypass
* Silent relay-based switching
* All-analog dry signal path
* All-digital wet signal path with 20 Hz - 20kHz frequency response
* Current draw: 425mA
* Weight: 18 ounce
* Product Dimensions: 3.25" H x 5.25" W x 6.75" D

Power

EarthQuaker pedals take a standard 9-volt DC power supply with a 2.1mm negative center barrel. We always recommend pedal-specific, transformer-isolated wall-wart power supplies or multiple isolated-output supplies. Pedals will make extra noise if there is ripple or unclean power. Switching-type power supplies, daisy chains and non-pedal specific power supplies do not filter dirty power as well and let through unwanted noise. Do not run at higher voltages!

Current draw is 425 mA.

Switching

This device is true bypass and uses electronic relay based switching. Audio will not pass without power. For standard latching operation, tap the footswitch once to activate the effect and then tap again to bypass. For momentary operation, hold the footswitch down for as long as you'd like to use the effect. Once you release the switch the effect will be bypassed.